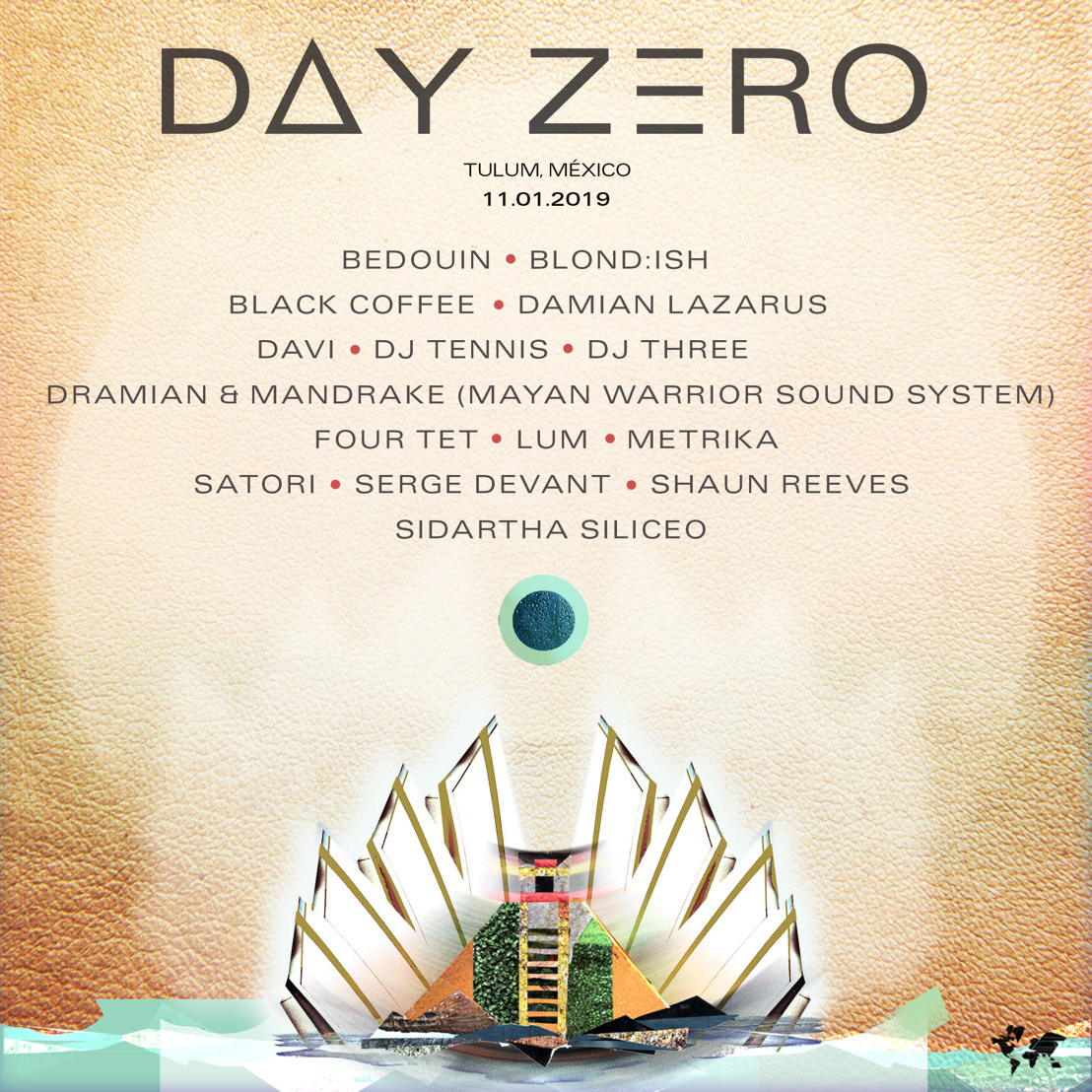 Day Zero Releases Complete Lineup for 2019 Return to Tulum January 11th
Featuring Brand-New Second Stage
Wednesday, November 14, 2018 — Full lineup: Four Tet, Black Coffee, Damian Lazarus, DJ Tennis, Shaun Reeves, Bedouin, Blond:ish, Davi, DJ Three, Lum, Mayan Warrior Soundsystem, Metrika, Satori, Serge Devant, Sidartha Siliceo
The end of the Mayan calendar in December 2012 signalled the beginning of a new cycle to many. For Damian Lazarus, this meant embarking on a journey to the home of the ancient culture itself — the jungle of Tulum — to birth Day Zero, a gathering that encapsulated the spiritualism of this event in physical and sonic form. Day Zero has since evolved to become one of the most transformative events in the world of underground electronic music, attracting curious world travelers to its grounds at the top of each year to rejuvenate their minds through the ceremony of music, art, and dance.
Musical programming thus plays a critical role in this metamorphosis, and Damian Lazarus curates an aural experience that amplifies the mystical energy flowing within the grounds of the Dos Ojos Cenoté Park . 2019's chapter seals in this commitment, with a new slate of talent being added to complete the bill. Additions include Grammy award-nominated icon Four Tet, Visionquest founder Shaun Reeves, and a nod to the community's Black Rock roots from DJ Three and the Mayan Warrior Soundsystem.
These artists join an already world class roster which includes the Tulum debut of South African house icon Black Coffee, techno stalwart DJ Tennis, the globally inspired sonics of Bedouin, modern sitar master Sidartha Siliceo, and of course some of Crosstown Rebels' most celebrated stars of Serge Devant, Satori, Lum, Metrika, and Davi.
Day Zero's multisensory horizons will be expanded in 2019 with the addition of a new stage. For the first time ever, guests will have their pick of two distinctively-programmed musical arenas - all while losing themselves among the psychedelic labyrinth of trails, cenotés, and art installations between each.
Paired with Mayan shamans who perform rituals for guests into the sunrise, Day Zero promises a profound 18 hours of rebirth to those making their way into the middle of the jungle. It's elements like this, along with the brand's steadfast devotion toward respecting its sacred grounds, that make Day Zero a truly unparalleled combination of ancient and modern traditions, and a multi-dimensional trip for the senses.
Crosstown Rebels background
Crosstown Rebels started their mission in 2003 powered by a modern electronic canon spearheaded by Damian Lazarus. The label has inspired countless unforgettable dance floor moments and nurtured many universally adored music makers. Soon to be entering its fourteenth year at the forefront of future-moving dance music, Crosstown Rebels remains the electronic pioneering force of the past decade and a half.
Connect With Day Zero:
Event Photography Credit: HERE & NOW